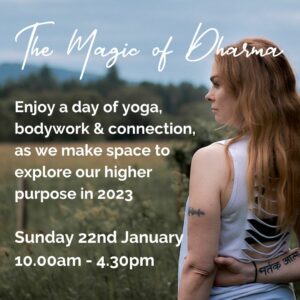 **NEXT EVENT COMING SOON! **
** SOLD OUT - thanks for you interest though and next workshop coming soon! **
Dharma [ dahr-muh, duhr- ] noun: Right Action or Truth
Embrace the colder weather and shorter days as we support ourselves through the winter months and prepare for the year ahead! The New Year is a potent time, a cross-roads and this day is granted even greater shree (auspiciousness) as we come together, not just at the start of the year but at the first New Moon of 2023 (21.1)!
As we step into this truly magical time, we'll use our day together to reflect on what we really want from the year ahead. We'll explore the tools to tune into our deepest purpose (our dharma) and the work required to cultivate the mindset to achieve it in a healthy and balanced way!
We'll begin with a warming all-levels practice to pull in energy and ground strongly into the colder months. Winter is a time for hibernation and preparation and this day will be spent reflecting on and planting the seeds for the year we want to grow. Our morning practice will be filled with prompts to help us make the space for our deeper goals and path (dharma) to rise up, we'll then take this exercise into a reflective session of journalling and guided meditation. No yoga or journalling experience necessary!
After a nourishing vegan lunch we'll explore wonderful bodywork techniques to relax and release tension, before diving into a long easeful, restorative yoga, affirmations and journalling session to close.
This beautiful day will be a incredibly nurturing experience as we give ourselves permission to fully focus on our own path and wellness. We'll create resilience and spaciousness, build and store energy to support us over the cold months 'til Spring and take away techniques to align to our dharma, the path of our highest purpose that waits for us in 2023!
Investment - Members £72 (inc Members discount), Non -Members £80