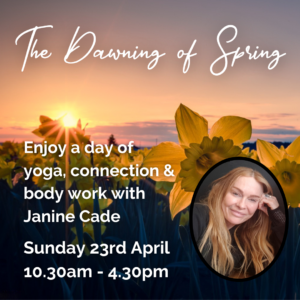 As Spring begins it's full unfolding, we come together to recognize and celebrate the rising energy of the season through yoga, meditation, food & connection.
For centuries, at this time of year across Europe, Eostre - the Goddess of the Spring & New Beginnings (Easter!), has been celebrated. As new life starts to emerge, we'll bring that energy of new beginnings into our practice and into our intentions. Eostre's own beginning is rooted in the Vedic Goddess, Ushas, the Dawn, the dispeller of the night, who drives away oppressive darkness and sets all things in motion. During our day together we'll explore these deeply intertwined energies and become present with them, enabling us to recognize them in our lives as the days lengthen and warm.
We'll start in the morning cultivating focus in a warming all-levels yoga practice to open and detoxify the body, eliminating any stagnancy from the winter and inviting in a sense of new spaciousness & optimism in the body, breath and mind.
After a delicious vegan lunch together, you'll be led in a gorgeous guided meditation, to explore deeply the energy of new beginnings and inviting in Spring's surging power and influence to your life.
In the afternoon, we'll dive further into detoxification and clearing, with a specially tailored session of myo-fascial release and somatic stretching bodywork. We'll close the day with a sumptuous session of yin & restorative yoga, fully nourishing ourselves and aligning with the vibrancy of Eostre & Ushas.
Investment for this beautiful day of rejuvenation & celebration is just £72 for Members (inc members discount) and £80 for non-Members.