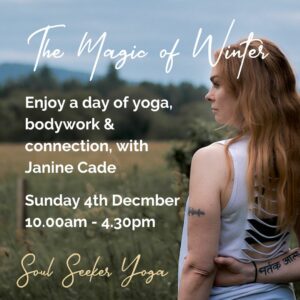 Postponed 'til early 2023 - new date to be announced shortly!
Embrace the colder weather and shorter days as we set up to support ourselves through the winter months!
Our beautiful day together will be spent cultivating warmth through yoga, pranayama (breathwork), deep nourishment and rest as well as seasonal guided meditation and will be suitable for beginners and experienced practitioners alike.
We'll begin with a warming all-levels practice to pull in energy and ground as we prepare for the coldest months and create resilience and space for the transition to Spring! We'll spend time exploring some extended breathwork practices and then we'll break for a nourishing lunch.
After lunch we'll explore wonderful bodywork techniques to relax and release tension, before diving into a seasonal guided meditation and sumptuous, long restorative yoga session to close.
This beautiful day will be a total step away as we give ourselves permission to fully focus on ourselves, create resilience, build and store energy and take away techniques to fully embrace the Magic of Winter!
Investment Members £72 , non-Members £80