Yoga Classes in the heart of Inverness
We offer a range of evening & daytime classes, Monday to Saturday, find out more about them all below! All our classes are suitable for mixed levels of experience and fitness. Our ethos is that there is no hierachy in our classes or community - everyone practices together, so please head to whichever class you like the sound of. However, if you have any questions at all please don't hesitate to email us at hello@soulseekeryoga.com.
For a summary timetable of our current offerings scroll to the bottom of this page or to see our booking schedule and book classes, go to our Book Now page here.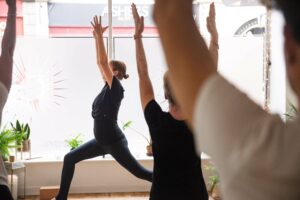 Soul Flow Energy
A heat generating practice offered every day the studio is open. Combining gentle warm up, more dynamic, vinyasa based sequences and a cool down through body opening poses, restorative sequence and guided relaxation. Open to all levels of fitness and ability, our signature class offers modifications throughout with the aim of helping each client develop strength and flexibility at an individually suited pace, while calming and soothing the mind.
Seasonal Flow

In this class we'll aim to align our practice with the energies of the season aiding in the development of balance and harmony in body and mind. As the seasons pass we'll gently migrate our focus through different areas of the body whilst still ensuring a rounded practice of warming sequence, main series of poses with seasonal energetic focus and closing/restorative sequence. Depending on the season these flows can include vinyasa and be heat generating but modifications are offered throughout, so these beautiful sequences are available to all!
Bhakti Flow
Bhakti (bac-ti) Devotion: dive deeper into the practice of yoga with this warming vinyasa based class that explores the roots and foundations of contemporary yoga, through the philosophy and stories of this ancient tradition. Each week we'll explore a pose or teaching, through a warming sequence of movement and breath, that guides us to an expanded awareness of the profound lessons offered by yoga and the unveiling of our own journey. We'll use this time together and the potency of movement, to absorb the wisdom of the practice and integrate it into a full offering into our own lives, benefitting ourselves and all those around us. Open to all interested in the journey of yoga!
Slow Flow & Sound
This gorgeous class is a blend of effort, ease and continuous flow with a deep focus on calming & grounding. We'll find warmth in some spicy movements but all the while flowing slowly and seamlessly from one pose to another as we dance with the breath. Moving to the floor just over half-way through the class, we'll shift into deep relaxation in savasana whilst bathed in the vibrations of a crystal bowl sound bath. Great class for travelling through the layers in the body and finding deep rest. Pregnant yogis and those with pacemakers, metal plates or who suffer with tinnitus or epilepsy, should contact us at hello@soulseekeryoga.com before booking for a quick chat.
Buti Yoga

Release tension, stress and trauma held in the body, while increasing your metabolic rate, strength and cardio resilience. Buti is a practice like no other! A blend of hatha and kundalini inspired yoga that incorporates, strength work, dynamic flowing within the poses, plyometric bursts (think HIIT), tribal dance movement, spiral movements and dynamic shaking. This is a fun practice for ALL bodies, where we release all notions of what we can and can't do, what we look like and just get into our bodies and into the moment. Generating deep feelings of peace as we come to our final resting pose, you'll leave class feeling physically tired but energised and blissful!
Dynamic Hatha
With it's roots in Sivananda yoga, a core Hatha practice, this class will introduce warmth into the body through the dynamic sun salutation sequence. The asanas or poses then introduced will facilitate the movement and stretch of the spine in every direction. We'll use breath to awaken various muscle groups, holding each posture for a varying length of time to allow for deeper physical expansion. The class engages the whole body, with focus on alignment, energising breath, slowly building strength, toning and improving overall flexibility.
Nourish & Flow
Ease into your body and mind with a class that gently warms you and then invites you to rest deeply. We'll find a series of gentle flowing movements, to invite space into the body, that each finish with a delicious restorative or gentle yin pose. The class finishes with gorgeous restorative poses. Unwind, release and find deep ease in this beautiful candlelit class.
Vinyasa Flow
An invigorating but gentle, full-body flow where you'll explore yoga postures and the fundamental principles of Vinyasa Yoga. This is a class that will work every muscle, connecting movement with breath at a moderate but intuitive pace. Give yourself time to move, stretch and release in this flowing practice.
Align & Flow

A vibrant practice strongly based on alignment cues, enabling you to gain a detailed understanding of your body and how the asanas/poses work. In this class we aim to supercharge the development of proprioception (awareness of where your body is in space), improving not only alignment in poses in class but the way you carry yourself and your posture off the mat, increasing vitality, bringing comfort to the body and improving confidence.
Open & Restore

A highly effective sequence of poses taken entirely on the floor, drawn from the yin and restorative yoga styles. We'll start by surrendering to gravity using beautiful, comfy props to aid, whilst mindfully opening areas of the body where we experience restriction. Following on from that sequence we'll relax into fully restorative poses as we release any desire to do anything other than simply be. Each pose in the class is held for 3-5 minutes and comes fully modifiable. A wonderful way to unwind from a busy week or an excellent second class for clients wanting to significantly aid the development of their flexibility.
Shakti Yin

Invite in spaciousness, rest deeply and return fully into your body with our gorgeous Shakti Yin class. The combination of the Shakti Mat alongside yin yoga offers an opportunity to help us develop a greater awareness and sensitivity to physical sensations, thoughts and emotions, whilst gently unwinding the body. Shakti mats provided and use entirely optional. A floor-based, meditative practice, Shakti Yin is an intriguing and different way of practicing yin yoga.
| | Monday | Tuesday | Wednesday | Thursday | Friday | Saturday |
| --- | --- | --- | --- | --- | --- | --- |
| | | | | | | |
| 9.30am | | Dynamic Hatha | | Vinyasa Flow | | Soul Flow Energy |
| 11.15am | | | | | | Buti Yoga |
| 5.30pm | | Seasonal Flow | Bhakti Flow | Soul Flow Energy | Nourish & Flow | |
| 7.15pm | Align & Flow | Shakti Yin | Soul Flow Energy | Slow Flow & Sound | Open & Restore | |