Our Space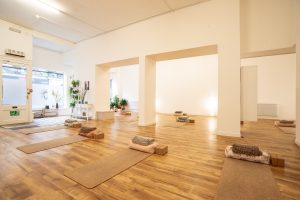 In October 2018, Soul Seeker Yoga opened it's doors at 1 Market Close our first home, a place we believed Inverness so needed, an intimate, dedicated yoga studio. Fast forward two years and we're very grateful to have been able to move into a new larger premises just around the corner at 33-35 Union St!
Our stunning, new space is still warm and inviting but much bigger and we're able to offer generous space for social distancing and all covid-19 safety protocols. The studio is located on the ground floor at 33-35 Union St, a wonderful listed building in the historic centre of Inverness. It's warm for our yoga practice and calm and serene. Yoga classes are currently limited to 10 participants, so clients feel truly nurtured and safe. An entirely different experience from yoga in a gym or local hall, yoga in a dedicated space has to be experienced!
The studio features quality, eco friendly mats and props, so all is provided for your practice. At this time, if you have your own mat, we do ask you to bring that with you, though do have mats available to borrow. We're happy to continue the use of our other yoga props, the materials used (cork and bamboo) are naturally anti microbial and transfer risk is very low. We have a rigorous set of covid-19 protocols in place to ensure your safety.